2nd Annual FiRE 5K & 1 Mile FUN WALK for Wellness
THE REVIEWS ARE IN
"I feel the whole event was great" * "This was an INTERESTING course, loved it" * "Tough course, but pretty!" "Don't change a thing, label it as the toughest 5K you will ever run, it was a great challenge" If you joined us last year for the inaugural event, you quickly came to realize it wasn't your average 5k nor was it easy. Well, let us explain...the word "valley" is in our name therefore it's kinda hard to find flat. In the end however, our runners embraced the suck and enjoyed the challenge !!! Best of all, those who ran last year all said they are coming to run it again. Why not join them, and see the beautiful Mahoning Valley 5k style !!!!
THE GOOD NEWS IS - WE TWEEKED THE COURSE FOR THE BETTER
So moving forward, we took the feedback received, and deepened our insight from a few local runners and came up with a way we can make a few adjustments to our course while still retaining the beauty of the spectacular views while you emerse yourself in the calm and serenity of our agricultural heritage. It will remain a 5K on varied terrain such as asphalt, and well manicured grass and gravel, but with the tweeks not so many demands from altitude.
"THE PAIN PASSES, BUT THE BEAUTY REMAINS."
Finally, we have a lot of folks to thank including our sole sponsor Lehigh Valley Hospital - Carbon and their team including locals Robyn Plesneski and lead by Terry Purcell. We find comfort knowing we now have world class heathcare right here in our own township. And when our committee needed guidance upon our first year in 2021, our team reached out to the Krum family who had many years of heading up successful 5K's in the area. We were humbled by their kindess and generousity towards our efforts in the true meaning of community spirit. Our committee felt that because of all the good that comes out of strong community minded folks like LVH-Carbon and the Krum family, we would like to give back to them. The members of the Mahoning Valley Volunteer Fire Co. No. 1 unanimously voted to take 10% of the FiRE 5K run & 1 Mile Fun Walk for Wellness registration fees and give it to
Dylan and Gavin's Rainbow Ministry
, a local non-profit doing great things. Click the link below to find more info on their mission here: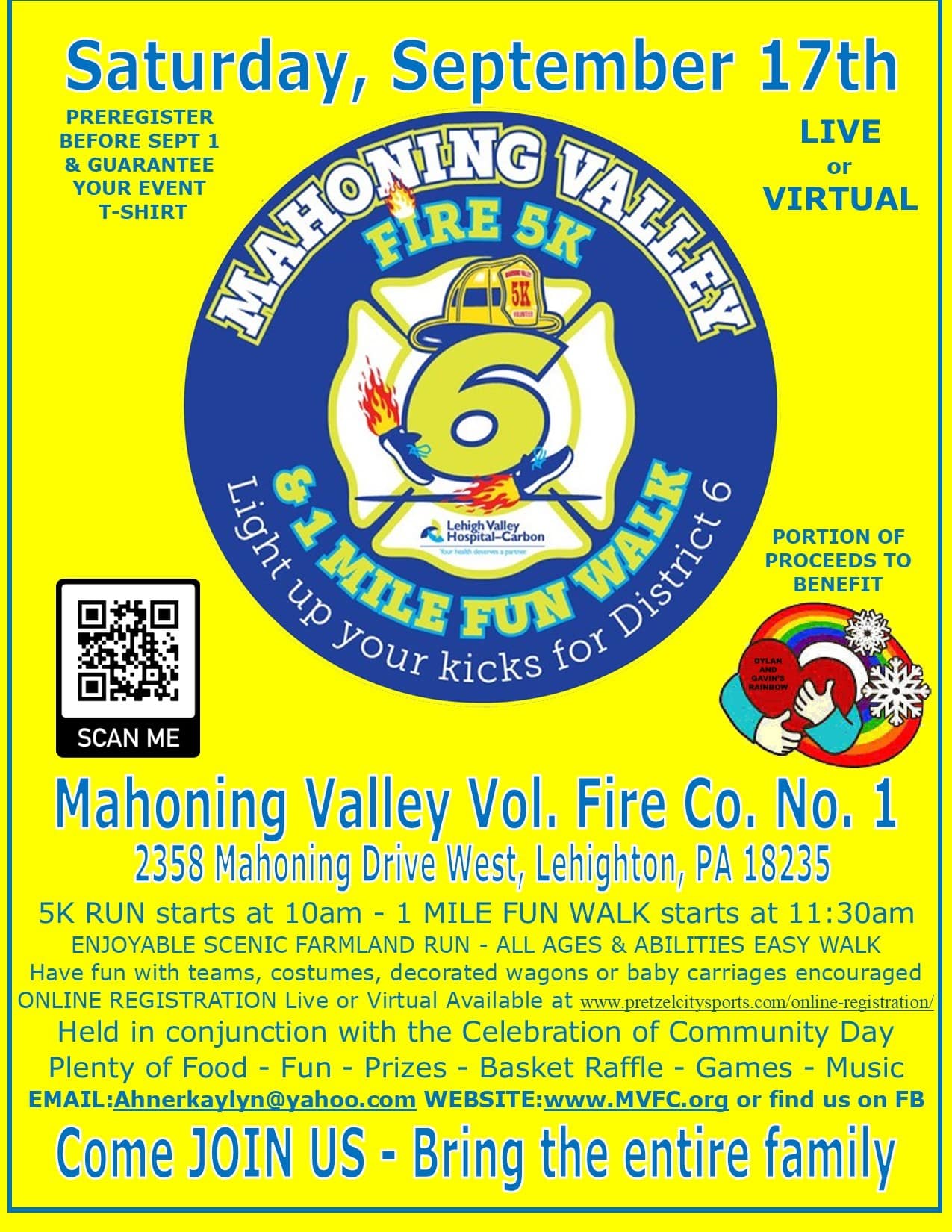 ONLINE REGISTRATION Live or Virtual Available at
https://www.pretzelcitysports.com/onlineform1.php?id=1666
or print out and mail the registration form found at the bottom of this page. Sign up for the run or the walk prior to September 1st to guarantee you will be wearing this sweet T-shirt !! You may register for the event up to the event and on the day of the event, however T-shirt availability is limited.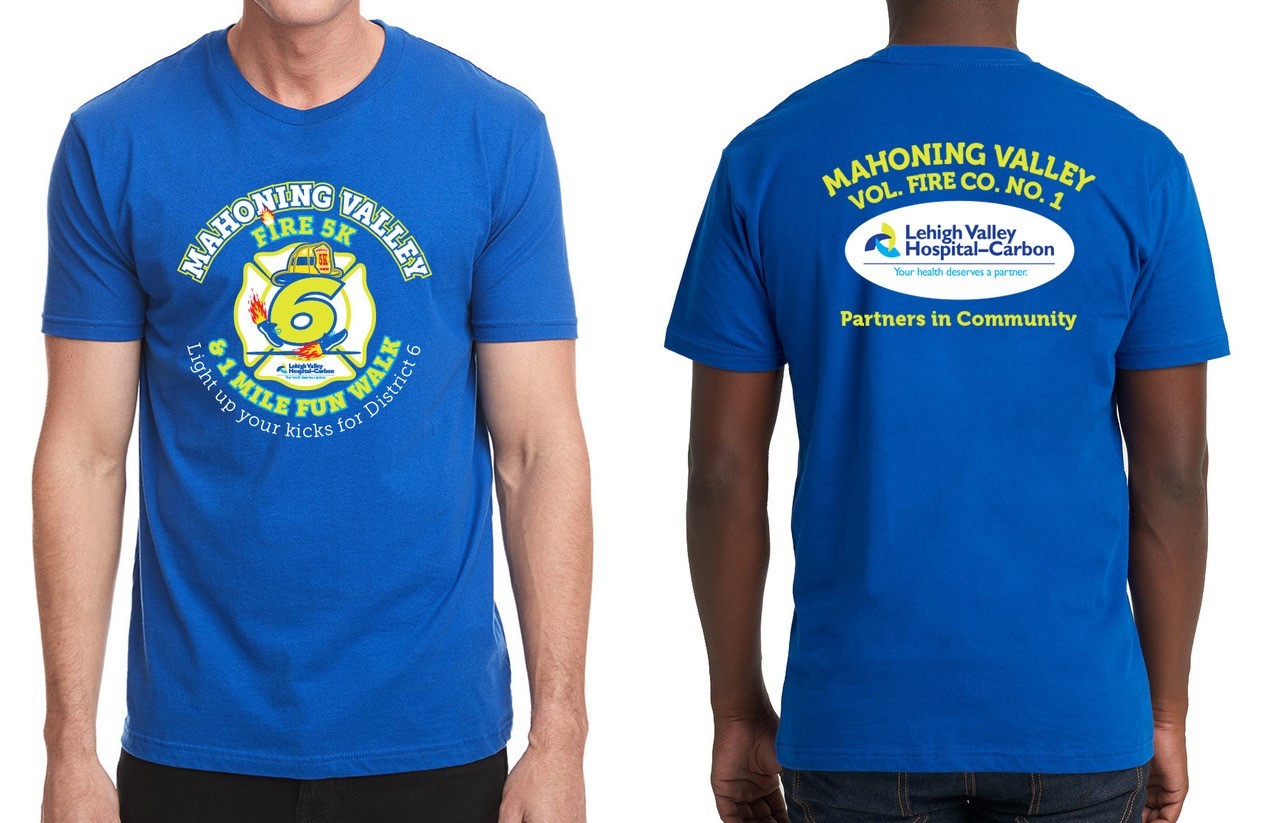 We are excited to announce our second annual 5K race and 1 mile fun walk for wellness. Come and join us and surround yourself in the peace, serenity and beauty of the same neighborhood our fire station sits. The 5K run and 1 mile walk will both be conducted by our volunteers and
managed and timed by the professionals of Pretzel City Sports
. Registration will begin at 8:30 at the fire house. The run will starts at 10:00 AM and is expected to challenge your abilities as you travel over the ups and downs of our rolling hills and valleys. What goes up however must come down so enjoy the scenery as you run thru our farmland fields of hay, corn and christmas trees. The run course consist of a start and finish on a closed asphalt and the majority of the race on asphalt road but you will transition onto a varied combination of stone driveways, cut grass fields and manicured farm roads. The walk is scheduled to start at 11:30 AM (or immediately after 5K awards) and is on a closed ashphalt road thus provides and opportunity for all abilities to get a breath of fresh country air. The walk course is approximately a half-a-mile out and back which can also provide an opportunity to turn around and return as you are able and as you wish. Be creative, form a team, wear a costume, decorate your baby carrige or childs wagon.
Prizes will reward you
for your participation in the fun. We thank you in advance for supporting our efforts and your health.